This is an archived article and the information in the article may be outdated. Please look at the time stamp on the story to see when it was last updated.
A Yorba Linda man was ordered held without bail Thursday on a murder charge in the stabbing death of a 17-year-old girl who had worked as a prostitute.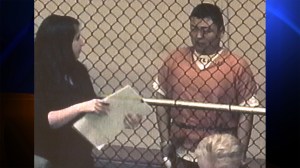 Larry Soo Shin, 35, appeared at a hearing at the Central Jail in Santa Ana. He did not enter a plea and his arraignment was postponed until Feb. 28.
Charged with one felony count of special circumstances murder while lying in wait, Shin faces a life sentence without parole if convicted, according to the Orange County District Attorney's Office.
He was arrested Tuesday, after a woman's body was found lying in the grass at the side of a road in a neighborhood of multimillion-dollar homes. She had died of multiple stab wounds to the upper body, an autopsy found.
The victim was identified Thursday as 17-year-old Aubreyanna Sade Parks of Gardena.
Parks had a prior arrest for prostitution and was reported as a runaway at the time of her death, according to the Orange County Sheriff's Department, which was investigating the case.
"My baby wasn't a prostitute," Parks' mother, Mantonette McKinney, told the Orange County Register. "It's not what we instilled in her."
McKinney said her daughter said she was afraid to come home just days before her death, the newspaper reported. The teen had recently been admitted to college, her mother said.
Shin was accused of "communicating" with Parks and asking her to come to Yorba Linda, according to the DA's office. After she arrived, he allegedly stabbed her to death and left her
body on the grass.
According to the Sheriff's Department, investigators had not yet determined the relationship between Shin and Parks by Thursday morning.
Anyone with information was asked to call the Sheriff's Department at 714-647-7044.  Anonymous tips can be submitted to Orange County Crime Stoppers at 855-847-6227 or at occrimestoppers.org.
KTLA's Chip Yost contributed to this article.