This is an archived article and the information in the article may be outdated. Please look at the time stamp on the story to see when it was last updated.
A man accused of bludgeoning four men to death and injuring at least eight other people during a week-long wave of attacks and robberies in Los Angeles and Santa Monica in September now faces new charges, prosecutors announced Thursday.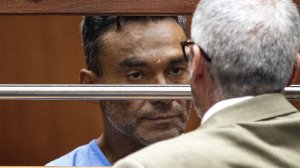 Ramon Alberto Escobar, 47, now faces four counts of murder, eight counts of attempted murder and four counts of robbery after a criminal complaint against him was amended, the Los Angeles County District Attorney's Office said in a written statement. Escobar is accused of using a baseball bat or other blunt object in the attacks, which primarily targeted homeless people.
The alleged special circumstances of multiple murders and murders committed during the course of robberies make Escobar eligible for the death penalty. Prosecutors have not yet determined whether they will seek capital punishment in the case.
One victim remained hospitalized when charges were initially filed against Escobar on Sept. 26, but succumbed to his injuries four days later, officials said.
Investigators have also linked several additional non-fatal attacks to the suspect since he was first charged, authorities added.
He pleaded not guilty to all 18 felony charges during an appearance in Los Angeles County Superior Court, prosecutors said. A preliminary hearing setting was scheduled for Jan. 6.
The series of killings began on Sept. 16, according to Los Angeles Police Department officials and prosecutors.
"Escobar is accused of beating three homeless men and robbing one of them in downtown Los Angeles," the district attorney's office statement said.
Branden Ridout, 24, and Kelvin Williams, 59, were killed in the attacks, officials said. The third victim was seriously injured.
"Escobar then allegedly beat, killed and robbed Steven Cruze, whose body was found under the Santa Monica Pier on Sept. 20," according to the statement.
Cruze, 20, was not homeless, but was sleeping outdoors in a hammock following a fishing excursion, family members told the Los Angeles Times.
Jorge Martinez, 63, was robbed and beaten in Santa Monica on Sept. 24, authorities said. He died at a hospital on Sept. 30.
Prosecutors allege Escobar also attacked a man at a beach in Santa Monica on Sept. 8, as well as two other people at Griffith Park in Los Angeles on Sept. 9. He's also been linked to several more attacks in the both Santa Monica and Los Angeles, officials said. His primary motive was believed to be robbery.
Los Angeles police officials said Escobar began the beatings and robberies within days of arriving in the L.A. area from Texas on Sept. 5.
He had recently been questioned in connection with the disappearances of two family members in Texas, a cousin told reporters.
The defendant has been deported from the U.S. six times, police added.
Los Angeles police Capt. William Hayes described Escobar as a "violent predator."
The attacks came without notice, generally, as the victims slept.
If prosecutors do not pursue the death penalty in the case, Escobar faces life in prison without the possibility of parole if convicted as charged.