This is an archived article and the information in the article may be outdated. Please look at the time stamp on the story to see when it was last updated.
A 32-year-old man who was shot by LAPD officers on the 5 Freeway at the end of a pursuit that followed a lengthy crime spree was charged Tuesday with more than two dozen criminal counts, including capital murder.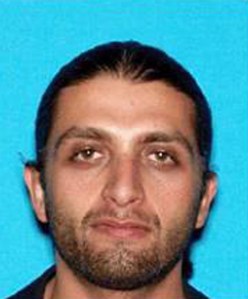 Artyom Gasparyan appeared in court in downtown Los Angeles, but his arraignment was postponed to March 16. He was ordered held without bail.
Gasparyan fled undercover officers in Sunland on Jan. 4 and, during a pursuit, eventually entered the 5 Freeway going against traffic, striking another vehicle and leaving its occupants injured.
Allegedly armed with a handgun, he ran away from the crash on foot and was soon shot by detectives.
He was being sought in a crime spree that included violent incidents in Burbank, Long Beach, West Hollywood and Panorama City. The Los Angeles Police Department has been investigating the case.
Garparyan was charged with attempted murder and assault with a deadly weapon in connection with an Aug. 5 incident in Van Nuys, according to the Los Angeles County District Attorney's Office. He was also charged with attempted murder and assault with a firearm for a Dec. 13 incident.
On Tuesday, additional charges were filed for crimes that occurred between Dec. 6 and Jan. 4, including one count of murder with the special circumstance of an intentional shooting from a motor vehicle.
In one incident, a wild New Year's Day police pursuit ended in Long Beach, where Gasparyan's accomplice, Daniel Ramirez, fled into a home, where he shot two people and stabbed another before fatally shooting himself in the head, police had said.
Gasparyan was charged with 10 counts of attempted murder, seven counts of second-degree robbery, two counts of carjacking, two counts of fleeing police while driving recklessly, one count of hit-and-run driving resulting in injury, and one count of possession of a firearm by a felon.
Gasparyan was hospitalized after he was shot, delaying his initial court appearance. He has been released from the hospital, the DA's office said Tuesday.
He was being held at the Twin Towers Correctional Facility, according to county inmate records.