This is an archived article and the information in the article may be outdated. Please look at the time stamp on the story to see when it was last updated.
A 42-year-old man who allegedly strapped fireworks to a dog's legs and then left him to die in an alley in North Hollywood was sentenced Wednesday to two years in state prison.
Carlos Efrain Duarte pleaded no contest to one felony count of cruelty to an animal in connection with the 2013 incident, according to a news release from the Los Angeles County District Attorney's Office.
The 3-year-old American Staffordshire terrier, who later became known as "Indy," was found abandoned on July 5 suffering from severe burns to his stomach, legs and paws.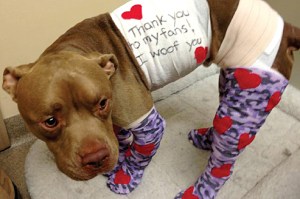 A witness saw the dog being dumped out of the back of a truck near Laurel Canyon and Victory boulevards and took the badly injured pet to a nearby animal hospital, prosecutors said.
"There were fireworks strapped to him and they lit them on fire," said Dr. Daniel Slaton, of the Westlake Village Animal Hospital.
"That's the burn mark patterns through the back of the legs," Slaton said. "As he was walking, it was burning the back of his feet."
The witness described the truck to police who used surveillance video to connect it to Duarte, prosecutors said.
Duarte was ordered to serve one year in local custody and one year under supervised release.
As part of the release, Duarte was ordered to perform 40 hours of Caltrans work, 52 hours of Alcoholics or Narcotics Anonymous classes, and attend court-approved animal cruelty and neglect counseling.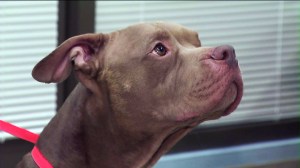 He will also have to attend psychological counseling while in custody and was prohibited from owning any cats or dogs for 10 years.
Indy was adopted earlier this year after undergoing months of painful surgeries.