This is an archived article and the information in the article may be outdated. Please look at the time stamp on the story to see when it was last updated.
The man charged with burning down the Da Vinci apartment complex and causing $100 million in damages, bragged about the fire at a hotel party a week later and was angry at high-profile police killings of African Americans, a witness testified Tuesday.
The testimony came during a preliminary hearing in the arson case against Dawud Abdulwali, who is accused of starting a fire on Dec. 7, 2014, that charred the unfinished, seven-story complex along the 110 Freeway in downtown L.A. .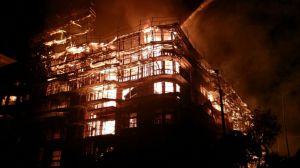 The witness, Popaul Tshimanga, said he and Abdulwali attended a party in a Hollywood hotel a week later. At the event, the witness recalled, Abdulwali ranted about the August 2014 killing of Michael Brown, an unarmed black man, by a white police officer in Ferguson, Mo.
"He was mad," Tshimanga said, adding that the defendant said "he burned the building" near the 110 Freeway. "He didn't like the way the cops were killing black people."
Click here to read the full story on LATimes.com.