This is an archived article and the information in the article may be outdated. Please look at the time stamp on the story to see when it was last updated.
A man suspected of fatally stabbing a woman with a samurai sword in Temple City was identified Thursday morning as 44-year-old Johnny Ralph Perales, according to the Los Angeles County Sheriff's Department.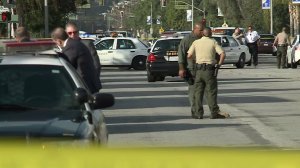 Perales allegedly went into the woman's home, located in the 6000 block of Temple City Boulevard, just after noon on Wednesday and beat the with victim with a wrench, according to a sheriff's news release.
He then allegedly grabbed a samurai sword and stabbed her once in the lower body, killing her, the release stated.
The woman's name had not been released as of Thursday morning.
A male resident in the home at the time was also wounded in the attack. He told investigators that the two were sitting inside when the man entered through the front door and started attacking the woman.
The male victim was also stabbed after the suspect grabbed the samurai sword, according to the Sheriff's Department. He was treated for his injuries at a hospital and released.
Corina said a 10-year-old boy "kind of" witnessed the attack; neighbors identified the child as the victim's son. Authorities have not said whether he also received injuries.
The attacker lived a few doors down from the victim, but it was still unclear whether he knew the woman. Sheriff's Lt. John Corina told KTLA the suspect may have been on drugs at the time.
He also apparently had a long rap sheet, Corina said.
A motive for the fatal attack remains under investigation.
Perales fled the scene after the stabbing, but eventually surrendered to authorities. He was booked at Temple Sheriff's Station on charges of murder and attempted murder, according to the release.
The suspect is being held without bail.
A booking photo of Perales was not being released immediately, sheriff's officials said.
Anyone with information about the stabbing is encouraged to call the department's Homicide Bureau at 323-890-5500.
Anonymous tips can also be left by dialing 800-222-8477, or by using the website http://lacrimestoppers.org.