Detectives arrested a 23-year-old man in connection with the death of a 6-year-old boy on Thursday evening, authorities said.
Tyler D'Shaun Martin-Brand of Downey has been booked on suspicion of murder, the Downey Police Department said Friday in a written statement. Police described him as an acquaintance of the child's mother, but provided no further details regarding the circumstances of the alleged killing.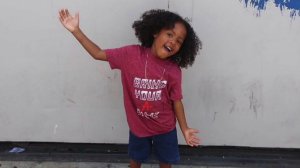 The young victim died shortly after being brought to a Long Beach hospital with severe injuries, officials said. Police did not disclose where or how the boy was injured.
"This case is a serious and complex investigation and investigators are still in the process of gathering information, interviewing witnesses and processing evidence," according to the police statement. "As a result, no other details will be released at this time."
Family identified the boy as Dayvon Taylor, who turned 6 last month.
The boy's father, David Nicholson, said he was waiting for information about exactly what took place from detectives and coroner's investigators.
"Right now, I'm just putting the puzzle together and waiting for the detective and the coroner report, and basically trying to get through this time," Nicholson said.
Martin-Brand was the boy's coach at Normandie Avenue Elementary School in South Los Angeles, the father said.
"This is a senseless act by a person who calls himself a coach," Nicholson said. "All I know is that this guy explained that he was trying to chastise my son."
Nicholson said he was notified about 7 p.m. Thursday that his son had been hospitalized. "He wasn't breathing when I got to the hospital," he said.
Until investigators provide more information, "I'm in the blind on everything right now," Nicholson said.
Information regarding Martin-Brand's bail and initial court appearance was not available Friday night.
Anyone with information was asked to contact Downey police Detective David Van at 562-904-2386. Tips may also be submitted anonymously to L.A. Regional Crime Stoppers at 800-222-8477.