This is an archived article and the information in the article may be outdated. Please look at the time stamp on the story to see when it was last updated.
The arraignment for the man accused of fatally shooting a Long Beach fire captain and injuring another firefighter as they responded to a blaze at a senior housing complex in the city last month was postponed on Monday, authorities said.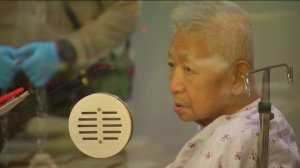 Wearing what appeared to be a hospital gown and seated in a wheelchair, Thomas Man Kim made his first court appearance in Long Beach.
Kim's attorney requested the arraignment be postponed till Aug. 15, noting her client had medical issues and she was unable to communicate with him, video from the courtroom showed.
The judge granted her request.
Kim, 77, has been charged with murder, attempted murder of a firefighter, two counts of attempted murder, arson of an inhabited structure and explosion with intent to murder, according to a news release from the Los Angeles County District Attorney's Office.
He also faces two special circumstance allegations: that the homicide was committed while a firefighter was on duty; and that he personally and intentionally discharged a handgun causing great bodily injury and death.
The judge ordered Kim be held without bail.
Kim is accused of setting off an explosive device inside his apartment at the Covenant Manor facility in the early morning hours of June 25, allegedly with the intent to kill a female neighbor he was feuding with, prosecutors said. She lived above him.
The explosion ignited the blaze and prompted firefighters to respond to the 11-story building, which is located in the 600 block of East Fourth Street.
After, Kim went to the opposite end of the hallway and sat down.
He then allegedly shot and killed Long Beach Fire Capt. Dave Rosa as he made his way down the hall, according to the release.
The defendant is also accused of shooting and injuring firefighter Ernesto Torres, 35, and a male resident who lived in the building, prosecutors said.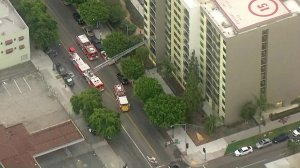 If found guilty, Kim faces the possibility of the death penalty or life in prison without the possibility of parole.
A decision whether prosecutors will seek capital punishment in the case won't be made until later, however.
Meanwhile, the Friends of Long Beach Firefighters website has set up a donation site in honor of Rosa, a married father of two who was a 17-year veteran of the department and served as a captain the past 6 1/2 years.
More information, including how to donate, can be found here.