This is an archived article and the information in the article may be outdated. Please look at the time stamp on the story to see when it was last updated.
A 28-year-old Victorville man was arrested on suspicion of attempted murder after allegedly planting explosive device under his e-wife's car while she was shopping with her two children, police announced Tuesday.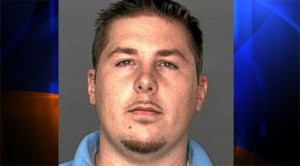 Steven James Sunny was taken into custody Monday at a home in San Bernardino, just hours after the device was discovered outside the Redlands Town Center shopping center on Alabama Street, according to a news release from the Redland Police Department.
Police received a call around 1 p.m. from a woman who noticed a suspicious device under her Ford Flex when she returned to the SUV with her two children after shopping, Redlands police spokesman Carl Baker said.
Several stores as well as a restaurant and hair salon were evacuated while bomb squad members removed the device.
The bomb was safety detonated away from vehicles and shoppers.
A bomb-sniffing dog was also brought in to search for other devices.
Redland's officers along with FBI and ATF agents served search warrants in Victorville and San Bernardino and recovered evidence at both locations.
Sunny was being held on three counts of attempted murder and possession of an explosive device with intent to kill.
He is being held in San Bernardino County jail on $1 million bail.
Anyone with additional information is asked to contact Detective Dominick Povero at 909-798-7580 or Redlands Police Dispatch at (909) 798-7681.