This is an archived article and the information in the article may be outdated. Please look at the time stamp on the story to see when it was last updated.
Deputies arrested a man Thursday after they say he attacked, robbed and attempted to rape a 61-year-old woman at a Moreno Valley business.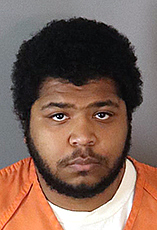 Nathanael Colbert-Chaves, 21, of Moreno Valley was booked on suspicion of robbery, assault with a deadly weapon, attempted rape, kidnapping with intent to commit rape and sexual assault, according to Riverside County Sheriff's Department officials and Riverside County booking records.
The crime unfolded shortly before 8:15 a.m. at a business in the 24000 block of Sunnymead Boulevard, Investigator Gabriel Gil said in a written statement.
Colbert-Chaves walked into the store and asked whether the business was hiring, he said.
"As the victim spoke to Colbert-Chaves, he assaulted and forced her to the back room as she attempted to fight back," Gil said.
"During the attack, suspect Colbert-Chaves attempted to sexually assault the victim," the investigator said. "After the struggle with the victim, Colbert-Chaves aborted his sexual assault and took the victim's purse and phone as he left the store."
The woman was taken to a hospital for treatment, officials said.
The suspect used the stolen credit cards at two locations in Moreno Valley.
The citywide surveillance camera system helped detectives get a description of the suspect's car and a partial license plate number, according to Gil. Deputies soon spotted the car parked at a home in the 12000 block of Cobblestone Lane.
Deputies carried out a search warrant and arrested Colbert-Chavez, he said.
"During a search of the residence, evidence of the crime was located inside Colbert-Chavez's bedroom," Gil said.
According to Riverside County booking records, bail for Colbert-Chaves was set at $1 million pending his initial court appearance, scheduled Tuesday in Riverside County Superior Court.
Anyone with information is urged to contact Investigator Gil at 951-486-6700.