This is an archived article and the information in the article may be outdated. Please look at the time stamp on the story to see when it was last updated.
The man accused of stabbing several family members following an argument with his girlfriend early Friday morning in Stanton has been identified by the Orange County Sheriff's Department.
Thomas O. Kuranda Jr., 21, was arrested after police were called to the 11000 block of Irwin Street just before 1 a.m., sheriff's officials said. He allegedly got into an argument with his girlfriend and then went on a stabbing rampage attacking family members.
The man's mother, father and 14-year-old sister were all stabbed in the incident, with the father suffering significant wounds, officials said.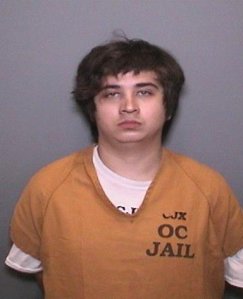 The mother and sister's injuries were considered to be minor.
The man's girlfriend was not stabbed but had a cut on her face.
All of the victims were taken to a local hospital, authorities said.
Kuranda was not injured in the incident and was booked on suspicion of attempted murder, corporal injury, criminal threats and assault with a deadly weapon, sheriff's officials said.
His bail has been set at $500,000, and his arraignment is scheduled for Oct. 1.
KTLA's Anna Albaryan contributed to this report.