This is an archived article and the information in the article may be outdated. Please look at the time stamp on the story to see when it was last updated.
A man who allegedly stabbed a woman to death on a Jurupa Valley street has been booked on suspicion of murder, police said Thursday.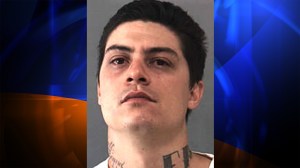 Officers were called to the intersection of 58th Street and Etiwanda Ave. (map) after someone reported a stabbing at about 11:40 p.m. Wednesday, the Riverside County Sheriff's Department stated in a news release.
A woman found at the location was attended to by deputies and medical personnel, but was pronounced dead at the scene,  according to the news release.
Authorities later arrested Stephen Marrufo, 28, in connection with the stabbing and booked him on suspicion of homicide, the Sheriff's Department stated.
Coroner's officials identified the victim as 25-year-old Tara Marrufo.
A cousin of the victim told the Riverside Press Enterprise that Tara Maruffo was Stephen Marrufo's wife and the stabbing may have resulted from an argument the couple had at a local market.
Anyone with information was asked to contact the authorities at 951-955-2777.
Those who wish to remain anonymous may also submit a tip using the Sheriff's Homicide Tipline online form.