This is an archived article and the information in the article may be outdated. Please look at the time stamp on the story to see when it was last updated.
Two friends died Sunday when one allegedly turned a gun on himself after accidentally shooting another man in Willowbrook, according to authorities.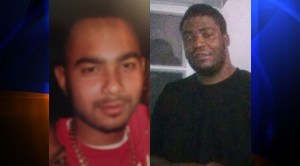 Sheriff's deputies responded to reports of multiple gunshot victims in the 400 block of East 138th East Street (map) around 1 a.m., according to a L.A. County Sheriff's Department news release.
A group of about 10 people were in front of a home when one man exhibited a gun for unknown reasons, Los Angeles Police Department Lt. Eddie Hernandez said.
"There were several people here and for whatever reason he decided to brandish a handgun," Hernandez said. "The victim that came over to try disarm him didn't like the fact that he was brandishing the weapon, tried to disarm him and that's when the gun went off."
After the victim was shot, the man who exposed the gun allegedly shot himself.
Family members identified the first gunshot victim as Jerrod Taylor, 23, and the man who brandished the weapon as Dominique Barnett, 24.
Barnett died at the scene, and Taylor died at a local hospital.
"Preliminary investigation is indicating that both the gunshot victims knew each other, and that they were friends, so there was no malicious intent at this point that we know of for the shooting to occur," LASD homicide detective Steven Lankford said.
Those who knew the victims said the two men had been friends for 11 years and Taylor was a father.
"Jerrod was a great kid," said his cousin, Laretha Kelly. "He worked very hard. … He was just so willing to help people."
Antoine Barnett, the gunman's father, said he believed his son "did get distraught over shooting his best friend, and he didn't see no outs."
"I wish he would have called me," the elder Barnett continued. "There's not much more I could have done, but at least talked to him. I didn't even get a chance to say bye to him."
An investigation was underway into why the gun was present and if alcohol or drugs played a factor.
KTLA's John A. Moreno contributed to this report.