This is an archived article and the information in the article may be outdated. Please look at the time stamp on the story to see when it was last updated.
A 29-year-old man was apprehended Wednesday morning after allegedly attacking three women at a home in Burbank, police said.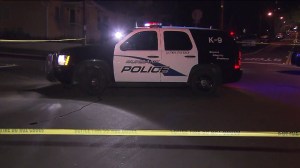 Two women were stabbed and another was assaulted around 11 p.m. Tuesday at a residence in the 700 block of Roselli Street (map), according to the Burbank Police Department.
All three women were hospitalized in critical but stable condition. Their injuries were not considered to be life threatening, Joshua Kendrick of the Burbank Police Department said.
Initially, police said that three women had been stabbed but they later clarified that only two of them women suffered stab wounds.
The victims were 67, 41 and 21 years old, according to Kendrick.
A dog was also initially reported to have been stabbed and wounded, but police later said that wasn't the case.
"Original reports had something with a dog. The dog doesn't appear to be harmed at all," Kendrick said.
The suspect, Cameron Hanson, was arrested around 4:20 a.m., nearly one hour after police had called off an extensive search for him. He was spotted trying to crawl into his car near the home where the incident occurred.
Hanson was taken into custody without incident, according to Kendrick.
A motive for the attack was not known, but officials believed Hanson had some kind of connection to at least one of the women.
No further information has been released about the case.