This is an archived article and the information in the article may be outdated. Please look at the time stamp on the story to see when it was last updated.
A burglary suspect was arrested after lunging at a responding police officer with a knife in Valley Village early Saturday morning, officials said.
Officers responded to reports of a hot prowl suspect in the 4900 block of Bluebell Avenue around 12:45 a.m., Officer Christopher No with LAPD's media relations section said.
It was unclear whether the man had actually stolen anything from any homes or businesses in the area.
After officers on scene located the man, a struggle ensued, according to No. Preliminary investigation indicated the suspect had attempted to cut an officer, Los Angeles Police Department Capt. Lillian Carranza said in a tweet.
The officer was "ok," she added.
Authorities then set up a perimeter around the area, but the suspect managed to escape its confines through a drainage channel, No said.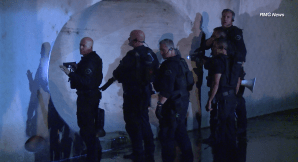 Footage from the scene shows a large police response with at least six patrol cars, several more officers, a helicopter, a SWAT team and a K-9. Fire officials could also be seen responding to assist police in accessing the drainage area.
The suspect, wearing a sweatshirt, shorts and gloves, could be seen entering an underground tunnel in the wash. SWAT officers and the K-9 followed him.
The man was subsequently taken into custody, No said.
He was then transported to the hospital for an injury police said was unrelated. The man was not visibly hurt in footage from the scene.
Upon his release from the hospital, he was formally arrested, officers said, though they did not specify what he was being held on suspicion of.
Authorities have not released the suspect's name.