This is an archived article and the information in the article may be outdated. Please look at the time stamp on the story to see when it was last updated.
A man was arrested on suspicion of murder on Friday following a manhunt that began a day earlier when the owner of a boxing and mixed-martial arts gym in Tustin was shot and killed inside the business, according to police.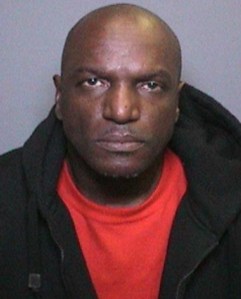 Kirk Vernell Price, 53, was taken into custody about 1:05 a.m. near the Orange County Jail, more than 12 hours after the fatal shooting at OC Boxing and MMA Academy, the Tustin Police Department said in a news release.
Price is accused of approaching the victim inside the fitness facility and shooting him multiple times, the release stated.
The victim, identified as 44-year-old Fahness Lutalo, died at the scene, police said. Lutalo owned the gym, which is located in the 14000 block of Newport Avenue.
In interviews with KTLA, friends and loved ones of Lutalo said he and Price had known each other for more than a decade and that the suspect had been banned from the victim's gym after instigating multiple altercations with him.
Lutalo, a father of three, was described as an "amazing man" and an "absolute inspiration to everyone that met him," a GoFundMe page set up to raise money for his funeral said.
"The man that he became -- he exceeded any expectations or dreams or hopes that I could've ever had for him," said Lutalo's father, Jerry Wilson.
Price, who was quickly identified as a suspect, was taken into custody early the following morning after being contacted by personnel with Orange County Sheriff's Department near the jail, the release stated.
He was booked on suspicion of murder and is being held on $1 million bail, according to police and inmate records.
Price, a resident of Santa Ana, has "an extensive criminal history" that includes robbery, assault with a deadly weapon and parole violations, the release stated.
The victim's father described Lutalo as always willing to help people. "And I think that might have been part of his downfall, if you can call it that -- trying to help this guy who actually turned around and did him harm," Wilson said.
Police are still searching for the firearm used in the shooting, as well as the suspect's vehicle.
Kwesi Kordorwu, a student and friend of Lutalo, said he was "very proud of him."
"It was good to see a brother make it in Orange County," Kordorwu said. "It's just really disappointing that it would be another brother to take him out."
Anyone with information is asked call Tustin police Detective Lomeli at 714-573-3250.
KTLA's John A. Moreno contributed to this report.