This is an archived article and the information in the article may be outdated. Please look at the time stamp on the story to see when it was last updated.
A man has been arrested after allegedly placing a hidden camera in a Starbucks bathroom in Brea, and recording at least seven adults, police said Tuesday.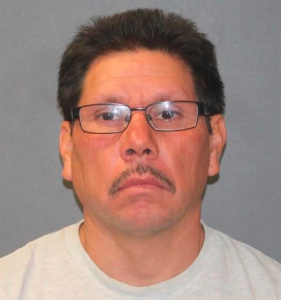 The arrest of Melcher Carrilloalvarado, a 44-year-old La Habra resident, was announced a day after police said a woman had found the camera in a unisex restroom at a Starbucks located at 101 West Imperial Hwy. (map).
The Brea Police Department released a picture of the suspect on Monday, saying detectives wished to interview the unidentified man who was seen loitering in the area.
Carrilloalvarado turned himself into police "due to extensive media coverage," and was subsequently arrested, Brea police tweeted Tuesday morning.
He was booked on seven misdemeanor counts and released with a notice to appear in court, police tweeted.
Seven adult victims were identified as being on the video footage, according to Brea police.
Anyone concerned that they may be on the video were told to contact Detective Irene Crews at irenec@cityofbrea.net.
The hidden camera, which was the size of a large pen, was mounted on a shelf in the restroom, police said.
A woman using the restroom found the device Monday, removed it and contacted police.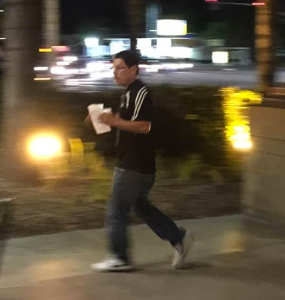 Due to the camera's small size, police were initially unsure if it was in fact a camera. A Orange County Regional Computer Forensic Laboratory later determined it was.
It was not known how long the camera had been hidden, but a Starbucks spokesperson said the restrooms are monitored.
"We take our obligation to provide a safe environment for our customers and partners (employees) very seriously," the spokesperson wrote in an emailed statement to KTLA on Monday afternoon. "As a part of regular store operations, we monitor the seating areas and restrooms in our stores on a regular basis to identify potential safety or security concerns."
Monday's incident was the second for the large coffee chain in the Southern California area in two months.
A 5-year-old discovered a hidden camera in a Lancaster Starbucks restroom in July, the boy's mother said.
Two weeks ago, another hidden camera was found in a Del Taco restroom in La Habra.
Investigators made no mention Tuesday if Carrilloalvarado was a suspect in the earlier case.
Hidden camera found in restroom of Starbucks 101 W. Imperial Hwy, Brea. Small video camera mounted under shelf. pic.twitter.com/gW3l8dqlUg

— Brea Police Dept (@BreaPD) August 17, 2015
Camera size of a large pen. Detectives working to ID vict and suspect from captured video images. pic.twitter.com/wXJOd3ylmW

— Brea Police Dept (@BreaPD) August 17, 2015