This is an archived article and the information in the article may be outdated. Please look at the time stamp on the story to see when it was last updated.
An Uber driver on Sunday recounted a violent incident in Costa Mesa that was captured on video and resulted in the arrest of a 32-year-old passenger.
Benjamin Golden, of Newport Beach, was taken into custody on suspicion of public intoxication and assaulting a cab driver, said Sgt. Cameron Phillips of the Costa Mesa Police Department.
The attack was reported at 8:10 p.m. Friday in the 1800 block of Newport Boulevard, where the driver said he was punched by the suspect and responded by spraying him with Mace, according to the sergeant. No other information about the arrest was available.
In an interview, Edward Caban said the altercation occurred after he repeatedly told Golden that he was too intoxicated to ride in the vehicle and ordered him to get out.
"I'm kicking you out, man," the driver is heard saying in the video, which contains graphic language and has been viewed more than 80,000 times after being posted on YouTube by Caban. "You're too drunk to give me directions, man."
"I'm giving you the directions to Park Newport," the passenger responds, possibly referring to an apartment complex in Newport Beach.
"Next thing I know, I've just got blows coming to the side of my head and I've got my arms up, trying to protect myself," Caban told KTLA.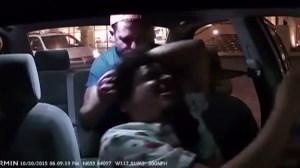 The footage appears to show the passenger reaching forward from the backseat and punching the driver about half a dozen times. The driver then apparently points a small can at the other man and sprays him, after which both occupants exit the car.
"I'm just glad that he was apprehended and that I was able to get out of that situation, even if it did cause him physical harm," Caban said.
A spokesperson for Uber said Golden has been permanently banned from using the ridesharing service.