This is an archived article and the information in the article may be outdated. Please look at the time stamp on the story to see when it was last updated.
A 24-year-old man was arrested in Colton after authorities found the remains of a missing man buried in a backyard, police said.
Colton police officers were called to a home along North Jantzen Drive about 5:15 p.m. Monday for suspicious circumstances.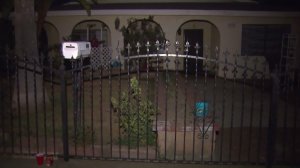 Cpl. Ray Mendez told the Press-Enterprise that detectives believe the victim lived alone in the home where his body was found.
During their initial investigation, police believed the missing man might have been the victim of a homicide and a "person of interest" was detained at the scene, officials said.
Detectives eventually found a shallow grave in the victim's backyard and the San Bernardino County Coroner's Office was called to recover the remains and preserve evidence, officials said.
Flavio Delgadillo was eventually arrested and booked on suspicion of homicide, officials said.
The circumstances behind the death and the motive remain unknown.
The victim has not been identified, but nearby residents told KTLA that the two men were neighbors.
Residents described the victim as a cheerful neighbor who they looked forward to running into on their street or at the grocery store.
"(He was a) Very nice gentleman," Ruben Castaneda said.
"At times you hear stuff happening, but not like this." Frank Ornelas, another neighbor said. "This is shocking."
A small memorial was set up for the victim near his home.