This is an archived article and the information in the article may be outdated. Please look at the time stamp on the story to see when it was last updated.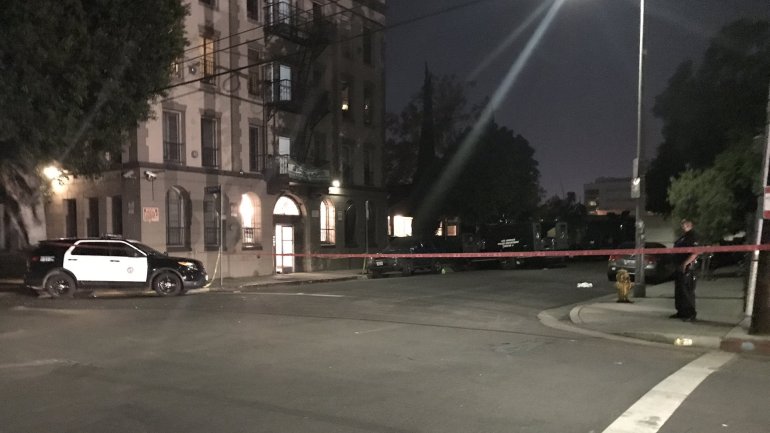 A man was arrested early Saturday morning after barricading himself in a Hollywood building during a nearly 12-hour incident in which an officer-involved shooting occurred, police said.
Officers were sent to the 5600 block of Fernwood Avenue around 4:50 p.m. after the man's sister reported he accosted her with a knife, according to Detective Meghan Aguilar with the Los Angeles Police Department.
She told police her brother confronted her while armed the knife when she arrived at the family home. He had also confronted their parents, who were not home at the time of the incident, officials said.
Once authorities arrived on scene the suspect barricaded himself, and the lengthy standoff ensued. Residents of the homes' immediate neighbors were evacuated.
Officers tried to make contact with the man, but he was unresponsive. His sister also attempted to coax him out, but he refused, Aguilar said.
Special tactics and SWAT teams were brought in around 8:45 p.m.
The man came to the front door at about 9:40 p.m. and an officer fired his gun at him, but the man was not struck, according to police.
He retreated back inside and, after crisis negotiators failed in establishing communication, officers used tear gas to force him from the home, Aguilar said.
No witnesses or officers reported seeing the suspect shoot at officers, though there were differing reports as to whether he was armed with a gun, according to Aguilar.
The man was eventually arrested around 3:20 a.m.
He could be charged with assault with a deadly weapon on an officer as well as assault with a deadly weapon, a knife, for the attack on his sister, depending on what detectives uncover during their investigation, Aguilar said.
Investigators with the city's Office of the Inspector General were on scene early Saturday morning.
No further details were immediately available.
KTLA's Nidia Becerra and Geoff Peters contributed to this report.