This is an archived article and the information in the article may be outdated. Please look at the time stamp on the story to see when it was last updated.
A man who was spotted riding a horse on the 91 Freeway in the Long Beach area was arrested on suspicion of DUI early Saturday, authorities said.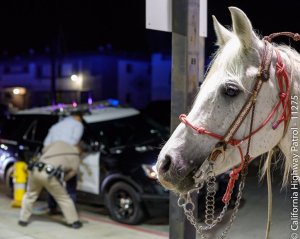 Officers responded to the roadway around 1 a.m. after a 911 caller reported a man riding in eastbound lanes from Paramount Boulevard to Downey Avenue, according to a California Highway Patrol arrest report.
The man, identified as Luis Alfredo Perez, was stopped as he exited the 91 at Downey and rode across Bellflower city limits.
His blood alcohol level was found to be more than double the legal limit, with two screenings showing results of .21 percent and .19 percent, the agency said.
"No, you may not ride your horse on the freeway, and certainly not while intoxicated," a tweet from the CHP's Santa Fe Springs account read.
Perez, who turned 29 that day, was booked into jail on suspicion of DUI on a horse, according to the arrest report. His bail was set at $10,000.
The animal, named Guera, was unharmed and released to Perez's mother, who came to the scene immediately.
"Just when you think you've seen and heard it all…you haven't," Officer Jeremy Tolen said.
So a horse walks onto the 91 freeway…no joke. Rider arrested by CHP for DUI in the greater Long Beach area. Don't put yourself, your beautiful animal, or others in danger of being killed in traffic. @CBSLA @NBCLA @KTLA @ABC7 @FOXLA @CNN @FoxNews @ABC @NBCNews @CBSNews @CHP_HQ pic.twitter.com/YdiL54ctvQ

— CHP Santa Fe Springs (@CHP_SFS) February 25, 2018
No, you may not ride your horse on the freeway, and certainly not while intoxicated. #CHP pic.twitter.com/IQ09Qgeq4j

— CHP Santa Fe Springs (@CHP_SFS) February 24, 2018
We get a chuckle out of the interesting situations we encounter from time to time, but one thing the CHP does not do is "horse" around with DUI.

— CHP Santa Fe Springs (@CHP_SFS) February 25, 2018