This is an archived article and the information in the article may be outdated. Please look at the time stamp on the story to see when it was last updated.
More than two years after a human head was discovered by two hikers in Griffith Park, a 38-year-old man arrested in San Antonio, Texas, was charged with murder, authorities announced Monday.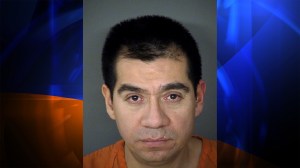 The head was discovered on Jan. 17, 2012, by two women walking dogs on a trail in the L.A. city park, not far from the Hollywood sign in the Bronson Canyon area.
Responding investigators, aided by a cadaver dog, later found hands and feet nearby, police said at the time.
The victim was identified two days after the initial discovery as a 66-year-old L.A. resident, Hervey Coronado Medellin. Police searched a Hollywood apartment where he lived shortly after the gruesome discovery in Griffith Park, the Los Angeles Times reported in 2012.
More than six months after Medellin was identified, authorities offered a $50,000 reward for information leading to the arrest and conviction of his killer or killers.
On Friday, Gabriel Campos-Martinez was arrested on suspicion of murder by LAPD Robbery-Homicide Division detectives with the help of the San Antonio Police Department, according to an LAPD news release.
He was charged with one count of murder, the Los Angeles County District Attorney's Office said. Martinez allegedly killed Medellin around Dec. 27, 2011, after having been roommates with the older man for about six months, according to a criminal complaint.
Medellin died of asphyxiation, the DA's office stated. A coroner's spokesman told the Los Angeles Times asphyxiation was probably what killed Medellin, but he noted that other injuries were unknown because not all of the body was recovered.
Deputy DA Bobby Grace said the motive was "due to the relationship" between the two men, the Times reported.
The property manager at the building on De Longpre Avenue where the two men lived on Monday said Martinez had moved out about one month after the homicide investigation began.
Martinez was being held on $1 million bail while he awaited an extradition hearing. He faces 25 years to life in state prison if convicted.
Speaking to news media at an unrelated press conference Monday morning, LAPD Chief Charlie Beck called the killing a "particularly grisly homicide" and a "very difficult case."
Martinez had been a person of interest since the beginning of the investigation, Beck said.
County prosecutors worked with police on the investigation and traveled to San Antonio to assist with the arrest, Beck said.
KTLA's Sara Welch contributed to this article.