This is an archived article and the information in the article may be outdated. Please look at the time stamp on the story to see when it was last updated.
A Chino Hills man was arrested Tuesday after authorities discovered a marijuana grow with 675 plants that he was allegedly operating and stealing electricity for, local police said.
Two illegal marijuana grows were found in Chino Hills, one on Gazania Drive and another on Highview Street that police said was being run by 33-year-old Liu Hong. The two locations don't appear related, police said, so Hong was only involved with the Highview operation. No other details were released about the other location.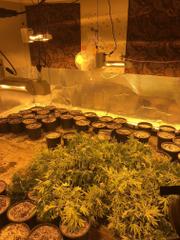 When investigators arrived to the Highview grow, they spotted Hong actually "caring for the marijuana plants," the Chino Hills Police Department said in a news release.
Police said there was also evidence of utility theft there, as the main power lines had been tampered with so electricity could be stolen — an act police called "dangerous" that is said to be often used for illegal marijuana growers trying to fly under the radar.
"Often, the suspects involved in the illicit growing of marijuana will bypass the utility company's meter to steal electricity service and to prevent detection by law enforcement or the utility," Chino Hills police said in a news release.
Such theft can "usually result in a fire at the incident location because of the unpermitted methods used," police said.
The electricity stolen is believed to be worth thousands of dollars, according to police.
Hong could also face vandalism charges, police said.
Multiple investigations into marijuana grows have revealed them usually being operated at rental properties, Chino Hills police said. Some areas have certain city codes not allowing for the cultivation of marijuana, particularly neighborhoods.
In Chino Hills, "any commercial marijuana activity" is prohibited, according to city codes. This includes marijuana cultivation or manufacturing facilities, delivery businesses, testing and storage facilities and retail stores.
"Generally, large-scale marijuana growing operations are not allowed in residential areas," police said in a news release.
The charges facing Hong include utility theft, vandalism and cultivation of marijuana.