This is an archived article and the information in the article may be outdated. Please look at the time stamp on the story to see when it was last updated.
A 41-year-old man was arrested Thursday for allegedly strapping fireworks to a dog's legs and then leaving him to die on a street in North Hollywood last July, police announced Friday.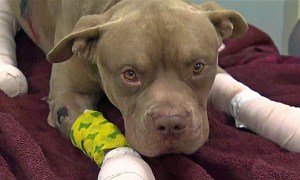 Carlos Efrain Duarte has been charged with one count of felony animal cruelty in connection with the incident, according to a news release from the Los Angeles Police Department.
The 3-year-old American Staffordshire terrier was found abandoned on July 5. The dog, nicknamed "Indy," was suffering from severe burns to his stomach, legs and paws.
"There were fireworks strapped to him and they lit them on fire," said Dr. Daniel Slaton, of the Westlake Village Animal Hospital.
"That's the burn mark patterns through the back of the legs," Slaton said. "As he was walking, it was burning the back of his feet."
Slaton has treated many animals with July 4 injuries, but never this extreme, he said.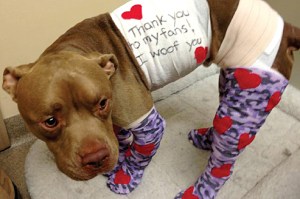 Shelter volunteer Allison Polumbus described the attack as deliberate, vicious and cruel. "It's really hard to see an animal in this kind of pain," Polumbus said.
"We saw him without the bandages," Polumbus said. "It's horrific, it's gory, and you can't even imagine the pain he's in."
Back in July, a witness reported seeing a Hispanic man pulling a severely injured dog from the bed of his truck and leaving him in an alley, police said.
Police were able to track down the truck using surveillance video.
The original witness was also able to positively identify Duarte as the man who dumped the injured animal, police said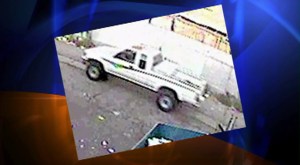 Duarte was due in court on Feb. 2o.  He was also being held on an immigration hold.
Indy eventually recovered from his injuries and was adopted by a worker at the animal hospital last month.