This is an archived article and the information in the article may be outdated. Please look at the time stamp on the story to see when it was last updated.
A man has been arrested in connection with two sexual batteries that occurred at UCLA last month, officials announced Thursday.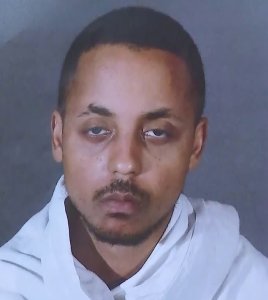 Paris Carter, 28, was arrested on suspicion of sexual battery, false imprisonment and possession of a loaded firearm, Lt. Kevin Kilgore said during a news conference.
Police linked Carter to the attacks and believe he may have victimized more people.
"We need the public's help because we cannot be everywhere all the time," Kilgore said.
The first incident occurred about 4:50 p.m. Feb. 5 in the 500 block of Veteran Avenue. The victim, a UCLA student, was walking home when she was approached by a man. The man allegedly touched himself then touched the victim, Kilgore said. The victim then screamed and the man ran away.
The second incident occurred about 4:20 a.m. Feb. 26 in the 600 block of Levering Avenue. The victim, also a UCLA student, was walking home when she was chased by a man who caught up to her, restrained her and touched "the intimate parts of her body," police said.
The victim also screamed and the man ran away.
On Wednesday, police responded to Kinross Avenue and Glendon Avenue and found Carter with a loaded gun. He was arrested and is in Los Angeles County Sheriff's Department custody.
Kilgore said the incidents are not linked to fraternities on campus.
"This is an outside person who has come into our community and victimized our community," he said.
Anyone who believes they may have been victimized by Carter is encouraged to call UCLA police detectives at 310- 825-9371.