This is an archived article and the information in the article may be outdated. Please look at the time stamp on the story to see when it was last updated.
A man has been arrested in connection with the deaths of two women who were found in Newport Beach after a house fire in Westminster, police said Monday.
About 5:30 a.m. Sunday, Westminster Police Department officers were called to assist the Orange County Fire Authority with a blaze in the 5000 block of Northwestern Way.
Arson investigators and detectives also responded to the scene because the fire appeared to be suspicious.
Once the fire was out, the homeowner, Yolanda Holtrey, 59, and her 49-year-old friend could not be found.
Their bodies were eventually found in Newport Beach Monday morning with signs of trauma, police said.
The victims apparently were killed at the home then moved to a grassy field near Ford Road and Bonita Canyon Drive in Newport Beach.
Authorities have not said exactly how the victims died, but Christopher Ken Ireland, 37, was arrested on suspicion of murder in connection with both deaths.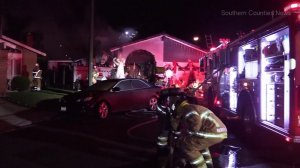 Evidence at the scene of the fire led investigators to Ireland's home in Huntington Beach, where he was arrested Monday.
Holtrey's friend has not been identified, but she also resided in Huntington Beach. Police believe the women and the suspect are acquaintances.
The blaze was ruled arson and the homicides are under investigation, police said. Investigators do not believe there are any outstanding suspects.
Anyone with information can call Westminster police at 714-898-3315.