This is an archived article and the information in the article may be outdated. Please look at the time stamp on the story to see when it was last updated.
A suspect in the killing of two police officers was arrested early Sunday — more than 12 hours after the fatal shooting during a domestic disturbance call in Palm Springs.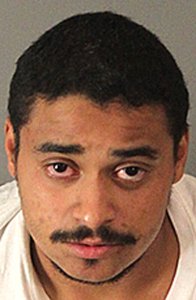 Police identified the suspect as John Felix, a 26-year-old resident of Palm Springs, who apparently has gang ties and has spent time in prison.
He was taken into custody after surrendering "peacefully" about 1:30 a.m. Sunday and was wearing "soft body armor" at the time, officials said. Felix was not armed when he was arrested.
Felix is accused of killing Palm Springs officers Jose Gilbert Vega, a 35-year veteran due to retire this year, and Lesley Zerebny, who joined the department recently and just got back from maternity leave. Officials said the last time Palm Springs lost an officer in the line of duty was 54 years ago.
Felix faces two counts of first degree murder and special circumstances including multiple murders and murder of peace officers, Riverside County District Attorney Michael Hestrin said during a news conference Sunday morning.
Authorities provided little details about the incident, citing the ongoing investigation.
Criminal charges will be filed Tuesday and Felix will likely be arraigned later this week, Hestrin said. He is recovering from injuries sustained during the incident. The charges would make him eligible for the death penalty.
"I have two officers that are now looking down on us from above, and our police department is now walking in the footsteps of two additional heroes," Palm Springs Police Chief Bryan Reyes said during Sunday's news conference.
"You have two extreme ends of the spectrum in terms of officers' careers — one at the tail end and one at the beginning," Reyes said.
A third officer who was wounded during the incident is recovering from non life-threatening injuries and was released from the hospital Sunday, officials said.
"The wounded officer is alert, he is cooperating with investigators, providing very detailed statements," Reyes said.
Felix had been previously sentenced to four years in prison in connection with a failed gang murder plot, the Desert Sun reported.
In that 2009 incident, the intended target did not die and Felix was charged with attempted murder. He pleaded not guilty to assault with a firearm, admitted his gang ties and was sentenced to four years in prison, the newspaper reported.
In addition, Felix had been forcibly arrested in 2013 at the same house where Saturday's shooting occurred, according to the Desert Sun.
"He is not foreign to the justice system," Riverside County Assistant Sheriff Joe Cleary said of Felix's record, without elaborating.
Mother's call
The incident started after officers responded to a 911 call at a house in the desert resort town about 100 miles east of Los Angeles.
A woman made the call around midday local time and said her adult son was causing a disturbance, officials said.
When officers arrived, Felix refused to open the front door and threatened to shoot the officers, police said.
Within 10 minutes of their arrival, as they tried to get him to comply with their orders, Felix opened fire through the closed front door, according to police.
The Riverside Sheriff's department SWAT team arrived at the scene after 5 p.m. Saturday, according to Ray Wood, a chief deputy with the department. He said for several hours they attempted to contact the suspect who was barricaded inside.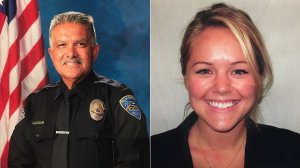 When that failed, the SWAT team "deployed chemical agents into the residence," Wood said.
"Almost immediately after introducing chemical agents inside the residence, the suspect emerged out the back door … when he emerged he was wearing soft body armor and he had a number of high capacity magazines on his person."
The suspect did not have a weapon on him when he was taken into custody, Wood said.
Palm Springs resident Arnold Morales described hearing a flurry of gunshots in rapid succession as he drove home from the gym.
"That's not fireworks," Morales told CNN affiliate KMIR. "(It was) bang-bang-bang. We must've heard at least 30 shots. It could be more."
'Awake in a nightmare'
"Today Palm Springs lost two brave officers that go out every day and put their boots on the ground for everybody in this community, " Reyes said at an emotional news conference Saturday, fighting back tears.
"They gave it all for you."
Vega, a father of eight, had served as a police officer for 35 years. He had filed paperwork to retire in December, but continued to pick up overtime shifts like the one he worked Saturday, the police chief said.
"Here he is, 35 years in, still pushing a patrol car for our community to make it better," Reyes said. "On a day he wasn't even designed to work."
Zerebny, a "wonderful, young, dedicated" officer, joined the department last year, Reyes said.
After going away on maternity leave, she had just returned to duty. She leaves behind her husband, who is a deputy with the Riverside County Sheriff's Office, and a 4-month-old daughter.
"I am awake in a nightmare right now," Reyes said. "My employees are broken."
On Sunday Reyes tearfully described watching Zerebny's husband, who is a Riverside County sheriff's deputy, give her a kiss goodbye on her forehead for the  last time.
Reyes said officers are grieving the two slain officers, and need prayers.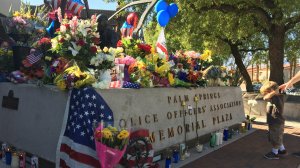 "My employees are broken," he said.
As the officers mourned, the community left flowers at the police station and held a candlelight vigil.
Paying Tribute
While officers mourn their fallen comrades, the community has been leaving flowers and messages and holding candlelight vigils at the police station.
Rudy Morales, a family friend of Vega's, was at Sunday's news conference to show support.
"It's a sad thing in Palm Springs, but a sad thing everywhere in California," Morales said about the shooting.
"What's tragic for me is we have a friend that died, regardless of the badge or uniform he is still a person."
He described his friend as supportive and charismatic.
He told KTLA that he was saddened to hear about Vega's upcoming retirement, but hearing about his killing was "hard to swallow."
"I want to remember Gil as a person that gave his heart, he gave his heart and he cared for everybody," Morales said.
Hundreds of people attended a vigil held Sunday night for the fallen officers to offer condolences and support for the officers and their families. Flower wreaths donated by the Anaheim Police Department, Anaheim Fire Department, Anaheim city employees and the Fullerton Police  Department were displayed at the vigil.
California Gov. Jerry Brown, offering his condolences to the officers' families, ordered the state capitol flags to be flown at half-staff.
"Officers Vega and Zerebny were killed today doing what they do every day — protecting their community," he said in a statement Saturday night. "We grieve with the family members, friends and fellow officers coping with this senseless tragedy."
Palm Springs police officers led a procession for both officers from the Desert Regional Medical Center to the Riverside County Sheriff Coroner's Office in Indio.
"Words cannot properly describe the heartbreak and the shock we are all feeling," the Palm Springs Police Officers Association said in a statement.
Saturday's shooting comes on the heels of a deadly summer for police officers in the United States.
On July 17, a gunman killed three officers and wounded another three in Baton Rouge, Louisiana. About a week earlier, a gunman killed five officers and wounded seven in Dallas.
Palm Springs police officers led a procession for both officers from the Desert Regional Medical Center to the Riverside County Sheriff Coroner's Office in Indio.
"Words cannot properly describe the heartbreak and the shock we are all feeling," the Palm Springs Police Officers Association said in a statement.
The Police Memorial Plaza at 0130 hours. Proud of the community we serve, thank you for your support. May our fallen heroes Rest In Peace. pic.twitter.com/aMWJfYuO6m

— Palm Springs PD (@PalmSpringsPD) October 9, 2016