This is an archived article and the information in the article may be outdated. Please look at the time stamp on the story to see when it was last updated.
A man was arrested after he was found driving the car of a Riverside woman who had been reported missing by her husband, police said Thursday.
Investigators believe they have also found the missing woman's body, but the remains have yet to be positively identified by coroner's officials, according to a news release from the Riverside Police Department.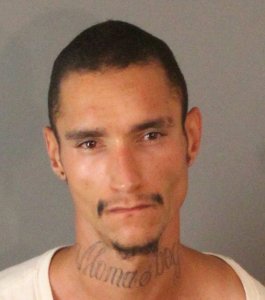 The woman, who has not been named by authorities, was officially reported missing after her concerned husband called police to their home on the 5800 block of Fair Isle Drive around 3:40 a.m. Wednesday.
His wife wasn't in their Sycamore Canyon home when he returned from work early that morning, and he grew increasingly worried when she failed to answer or return his phone calls, he told police. Then later that morning, she didn't show up for work.
At about 4:30 p.m. that day, officers found her car in Corona, being driven by a man identified as 24-year-old Aaron Allen Aubrey. Police described him as a transient resident of Riverside.
Aubrey was detained in connection with the woman's disappearance and later booked into the Robert Presley Detention Center on suspicion of auto theft, identity theft and violation of parole, officials said. He was being held without bail.
Around 11 a.m. Thursday morning, detectives using bloodhounds found a woman's body while searching at the base of Box Springs Mountain just outside Riverside city limits, near the intersection of Gernert and Pettegrew roads, police said.
The remains are now in the custody of the coroner's office, which is working to identify them and determine a cause of death.
Anyone with information can contact Detective Rick Cobb at 951-353-7135 or rickcobb@riversideca.gov, or Detective Karla Corbett at 951-353-7134 or kcorbett@riversideca.gov.