This is an archived article and the information in the article may be outdated. Please look at the time stamp on the story to see when it was last updated.
A man suspected of sexually assaulting at least six women in several San Gabriel Valley cities has been arrested, and investigators believe there are more victims, the Los Angeles County Sheriff's Department announced Tuesday.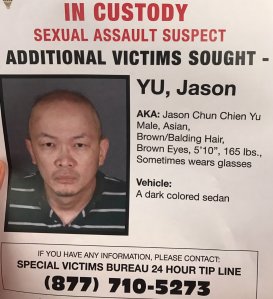 Jason Chung Chien Yu, 41, of Monrovia was arrested May 24 and has been charged with multiple sex-related crimes, including forcible sodomy and kidnapping to commit a sexual assault, according to a sheriff's news release.
He targets women who are addicted to drugs, luring his victims to his dark-colored sedan and then to a motel, promising money and drugs in exchange for sex, sheriff's Lt. Todd Deeds said. At motels, he holds the victims captive and brutally sexually assaults them, the lieutenant said.
"He targets women that are more vulnerable than most," Deeds said.
The incidents occurred in El Monte, Monterey Park, Temple City and Lynwood, the Sheriff's Department said.
Investigators noticed a pattern of "methods and clarity in planning by a predatory suspect" after several victims came forward, an updated news release stated. One victim identified Yu, who was arrested at his workplace in Irwindale.
Detectives believe Yu has been assaulting victims since 2012, and they hope more women will come forward now that he is in custody.
"We want you to feel safe notifying law enforcement," Deeds said, addressing potential victims. "We feel that we have taken a predator off the street."
Yu is being held on $1.37 million bail.
He was charged May 26 with multiple charges crimes including kidnapping to commit a sexual assault and forcible sodomy, and was arraigned June 2 in downtown L.A. He is being held at the Men's Central Jail and his next court hearing is June 16.
He is described as of Chinese descent, 5 feet 10 inches tall, 165 pounds, balding with brown hair, and sometimes wearing glasses.
Anyone with information about Yu can call the sheriff's Special Victims Bureau at 877-710-5273.