This is an archived article and the information in the article may be outdated. Please look at the time stamp on the story to see when it was last updated.
Ventura police arrested a 35-year-old man Thursday morning on suspicion of stealing crucifixes from the Mission San Buenaventura gift shop and using them to batter multiple victims.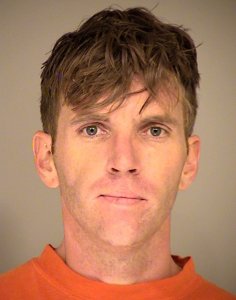 Suspect Forrest Brantley broke into the mission's gift shop before 6 a.m. and left after taking two crucifixes, according to the Ventura Police Department.
Brantley then allegedly accosted three victims as he made his way out of the parking lot and down Main Street. Authorities said he approached each victim and asked to use the person's phone before hitting them with a crucifix.
At one point Brantley broke the window of a 75-year-old man who had been sitting in his car, officers said. The victim's face was moderately injured and he was treated at a local hospital.
Once in the 200 block of East Main Street Brantley allegedly proceeded to break the window of the Arc Foundation Thrift Store and steal a bike before striking a fourth victim with a crucifix.
He continued toward the intersection of Chestnut and Main streets but was detained by officers around 6 a.m.
The suspect was booked into the Ventura County Jail for multiple charges, including three counts of attempted robbery, two counts of commercial burglary, one count of assault with a deadly weapon, two counts of vandalism and one count of elder abuse.