This is an archived article and the information in the article may be outdated. Please look at the time stamp on the story to see when it was last updated.
A man accused of inappropriately touching a child under 10 at a Jurupa Valley store was arrested and booked on three child molestation-related charges following the Saturday incident, according to police.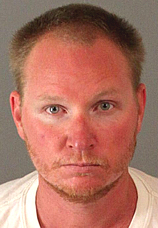 Officers responded to reports of a child annoyance at a retail store in the 7800 block of Limonite Avenue around 12:30 p.m., according to a Jurupa Valley Police Department news release.
A man had followed the victim and inappropriately touched the child when his/her parent turned away, investigators learned.
The suspect, Orion Charles Hitches, attempted to elude police by disabling his state parole issued GPS monitoring ankle bracelet, the news release stated.
Hitches, 32, was later located in the 6500 block of Archer Street, about a mile and a half from the initial incident, and was subsequently arrested and taken to the Robert Presley Detention Center.
He was booked on three counts of child molestation-related charges and his bail was set at $1 million.
Anyone with additional information was asked to contact Corporal Robert Martinez at the Jurupa Valley Police Department at 951-955-2600.