This is an archived article and the information in the article may be outdated. Please look at the time stamp on the story to see when it was last updated.
A 51-year-old man was arrested in connection with a fire that broke out early last month at a Glendale church, the Glendale Police Department said Wednesday.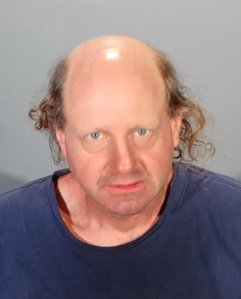 San Pedro resident Donald Walter Maitz, a former congregant of Faith Center Church was taken into custody Sunday following an investigation into a July 6 fire at the parish, located on the 1600 block of South Glendale Avenue about a block up from Forest Lawn Memorial Park, officials said.
The fire was fortunately stopped before it caused much damage, but evidence suggests whoever started it was planning to create a bigger blaze, according to police.
Surveillance video captured at the scene shows a man throwing a Molotov cocktail onto church property, which is then set ablaze.
A Glendale Officer Sharon Kim, who was patrolling the area, caught sight of the flames and was able to put them out.
"The fire was kind of at the gas line, and there's a lot of foliage in the area, so I wanted to put the fire out before it caused a big explosion," she told KTLA. "I didn't know if people were still inside the church."
At the time, however, Kim was unaware it was intentionally set by someone who allegedly fled the scene once her patrol car arrived.
Investigators later uncovered a bag carrying additional Molotov cocktails, indicating the arsonist intended to start a much larger fire.
DNA evidence collected from the remaining devices led police to identify Maitz as the suspect.
Although detectives began investigating the incident as a hate crime as well as arson, once Maitz was connected to the crime officials discovered he was previously a member of the congregation and volunteer at the church before being banned because of unspecified inappropriate behavior. Investigators now believe a personal vendetta motivated the attack, rather than a generalized hatred of the church or its religion.
Led by pastor Melissa Scott, Faith Center is well-known for its televised sermons and has members worldwide.
Maitz has been charged with one count of arson and one count of use of a destruction device, according to police.
He was being held on $500,000 bail.