This is an archived article and the information in the article may be outdated. Please look at the time stamp on the story to see when it was last updated.
A 40-year-old Agoura Hills man who twice called a regional Muslim center and threatened to kill people there has been arrested, and a large arsenal was found at his home, Los Angeles police said Tuesday.
Mark Feigin was arrestedOct. 19 on suspicion of making terrorist threats after being identified as the man who made phone threats against the Islamic Center of Southern California in Koreatown, according to Los Angeles Police Department Cmdr. Horace Frank.
Representatives of the Islamic Center, which first announced Feigin's arrest, joined LAPD at a news conference at police headquarters Tuesday.
Feigin first called the center Sept. 19, leaving a voicemail that was "peppered with vulgarity and espoused hatred toward the Muslim faith," said Frank, who works in the Counter-Terrorism and Special Operations Bureau.
The next day, he called again and spoke to someone at the center, whom he threatened to kill along with other center members, Frank said.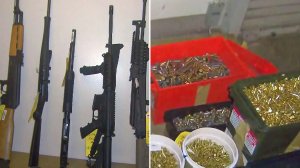 The center reported the calls to LAPD, whose detectives identified Feigin as a suspect. Arrest and search warrants were obtained in the case, and Feigin was arrested without incident on Oct. 19.
A search of his home turned up multiple rifles, shotguns, handguns, several "modified high-capacity magazines" and thousands of rounds of ammunition, Frank said. All of the firearms and rounds were seized as evidence. Some of the firearms were registered to him and some were not, the commander said.
Frank noted that the U.S. constitutional right to freedom of speech cannot be "unabated."
"With that right comes responsibilities, and one of those responsibilities is that you engage in free speech within the confines of the law," Frank said. "Mr. Feigin broke the law when he threatened the lives of the individuals at the Islamic Center."
Hours before he was arrested, Feigin tweeted, "hillary wins= end of america – start hoarding guns and ammo for the coming war."
Police displayed dozens of his tweets at the news conference. As of Tuesday, he had not tweeted since the day of his arrest.
Feigin was released on $77,500 bail early Oct. 20, jail records indicate. He is due in court Nov. 10, according to Frank.
Daniel Perlman, Feigin's attorney, said described his client as being a "good, decent man who believes in brotherhood."
"Anyone who says anything to the contrary simply doesn't know him," Perlman said in a statement.
"When we receive the police reports, it will become clear that this was all an unfortunate misunderstanding."
Officials with the center also said they still fear for their safety and have employed extra security measures after Feigin was released on bail.
"While we have been a bit shaken by this, this is not unusual. … We at the Islamic Center will stand resilient," said the center's spokesman, Omar Ricci. "Unfortunately, in today's political climate, such hate is not uncommon … but this particular call rose to a different level."
There's no indication that Feigin is part of any "group," Frank said. His posts on social media are part of the investigation, according to the commander.
The center said Feigin had posted anti-Islam messages on its Facebook page, some of which were documented before being removed.
A profile for him on Realtor.com says has 13 years of experience in real estate, and that he speaks fluent Mandarin and Polish.
The case will go to the state Attorney General's Office, Frank said.
The Islamic Center initially gave a different spelling for Feigin's last name. In a Facebook post, it said he also used Milosz as a first name.
KTLA's Mariel Turner and Cindy Von Quednow contributed to this story.
Correction: An earlier version of the article incorrectly stated that Mayor Eric Garcetti would be at the Islamic Center news conference.