This is an archived article and the information in the article may be outdated. Please look at the time stamp on the story to see when it was last updated.
A man accused of raping a teenage girl and a young woman and dumping their bodies by the freeway in Lincoln Heights in 2011 was caught after spitting on the sidewalk while being followed by police.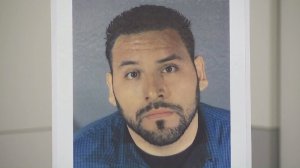 A DNA test of the spit left by Geovanni Borjas, 32, tied him to the killings of 17-year-old Michelle Lozano and 22-year-old Bree'Anna Guzman, LAPD Chief Charlie Beck announced Tuesday, calling the crimes "horrifying."
"DNA collection at time of arrest allowed us to connect this monster to the deaths of these two young women," Beck said.
Borjas was charged Tuesday with two counts each of murder and forcible rape and one count of kidnapping, the Los Angeles County District Attorney's Office announced. He pleaded not guilty in criminal court in downtown L.A. Tuesday afternoon.
Lozano vanished around Easter 2011, when she was taking a walk near her Lincoln Heights home. Her body was found a day later near the 5 Freeway at Cesar Chavez Boulevard.
"Michelle was murdered, she was sexually assaulted, and she was discarded," Beck said at a news conference Tuesday.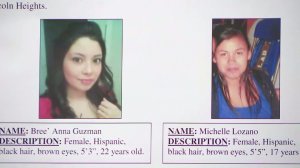 Then, the day after Christmas, Guzman left her apartment in Lincoln Heights to pick up medication from a nearby pharmacy. She had also been sexually assaulted, Beck said, and her body was found off the freeway a month later.
The chief said he has thought about the two victims at every holiday that marked the anniversary of their deaths.
The Los Angeles Police Department's high-profile Robbery-Homicide Division assumed the two investigations, but had trouble making progress, the chief said. It took some time before the two killings were even positively linked.
Investigators went through "exhaustive protocols" set up by the state Attorney General's Office to request a familial search because the attacker's DNA had not been found in existing state or national criminal databases.
That familial search led about a month ago to Borjas' father, who had been arrested earlier in his life. Further detective work identified Borjas as the possible suspect, Beck said.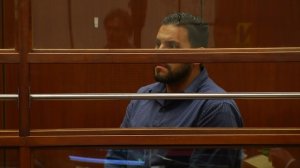 Borjas was followed by investigators, and during that surreptitious pursuit, he spit on the sidewalk. That spit was collected and tested, and the DNA matched evidence linked to both killings, the chief said.
Borjas was arrested May 25 at his home in Torrance, where he lives with a family, Beck said.
At his arraignment, a judge ordered Borjas held without bail "for the protection of the public."
That decision came over the request of his attorney, who said the defendant was a father and full-time worker whose "flight risk is low." The attorney also asked the Borjas be placed in "protective custody" in jail, and the judge said he could make a recommendation on that to the Sheriff's Department.
His next court date is June 22.
If convicted as charged, Borjas faces life in prison without parole or the death penalty. Prosecutors have not decided whether to seek the death penalty.
Beck asked the public to look at a photo of the suspect and contact investigators with any information about this case or possible crimes he may have been involved with in past.
Borjas worked at a medical supply company located in LAPD's Hollenbeck Division, where he once lived, the chief said. There may be a "connection" between the business' thousands of patients and the killings, Beck said, but the suspect has not been "forthcoming" with information.
It's not clear how Borjas obtained access to his victims or if he kidnapped them off the street. The chief would not comment on the cause of their deaths.
"Everybody can be absolutely assured that these are innocent victims," Beck said.
The older victim's father, Richard Guzman, cried as he addressed the media at the news conference.
"I'm trying not to break down, but it's hard," he said. "I have to thank the LAPD. … Now we know the person that hurt our family is behind bars."
The arrest marks the second time in LAPD history that a familial search has led to a suspect, Beck said. The first was the pizza crust tested to get a match in the Grim Sleeper case, which culminated in the conviction in May 2016 of Lonnie Franklin Jr. on 10 counts of murder and one count of attempted murder.
Some states do not allow familial tests, and such analysis is controversial in California, the chief noted.
"If we stop collection of DNA at time of arrest, if we stop allowing familial searches, then men like this go free," Beck said.