This is an archived article and the information in the article may be outdated. Please look at the time stamp on the story to see when it was last updated.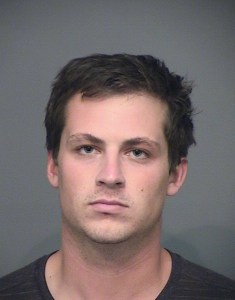 A 24-year-old Signal Hill man has been arrested on suspicion of running over an elderly woman in a McDonald's parking lot in an incident that was caught on surveillance video, police announced Friday.
Taylor Kirby surrendered to police Thursday night after an investigation led officers to impound his vehicle in the April 22 crash, according to a Huntington Beach Police Department Facebook post.
Kirby is suspected of felony hit-and-run, police said. He was booked into city jail and released after posting bail.
Kirby was believed to be the driver of a gray Dodge Challenger with paper dealer plates that backed over an 86-year-old woman who was leaving a McDonald's at Beach Boulevard and Robidoux Drive on the afternoon of April 22.
The victim was with her daughter and husband when she was struck. McDonald's patrons said the couple were regulars at the Huntington Beach fast-food franchise.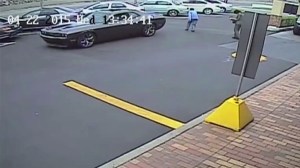 Surveillance video of the incident that was released Wednesday shows the Challenger backing into the woman and then stopping. The victim's husband and daughter could be seen banging on the car, with the husband approaching the driver's window, his cane in hand.
A passenger and the driver get out of the car to examine the woman, but then the driver motions for his passenger to get back into the vehicle, the video shows. Then the Challenger drives away while the woman lies on the pavement.
The woman was hospitalized with head injuries that were not life-threatening, police said.
Kirby was due in court June 30. It was not clear if police were pursuing the passenger.