This is an archived article and the information in the article may be outdated. Please look at the time stamp on the story to see when it was last updated.
A felon who was arrested for allegedly carrying a loaded firearm outside Disneyland was charged with three felony criminal counts, court documents released to KTLA Wednesday showed.
Percival Aguilar Agoncillo Jr., 44, was charged July 13 with being a felon carrying a loaded firearm in public, possession of a firearm by a felon, and possession of ammunition by a prohibited person.
The charges were filed in connection with a July 9 incident that occurred in the esplanade area between Disneyland and Disney California Adventure Park. The area is beyond a security check, according to Lt. Eric Trapp with the Anaheim Police Department.
Police were called to the area just before 9 p.m. by Disneyland security, which reported a man with a handgun, Trapp said Tuesday.
Disney security noticed a "bulge" on the man's chest and alerted authorities, police said. Trapp initially said park guests noticed the man and reported him, but Anaheim police later clarified that, in fact, Disney security personnel had spotted Agoncillo.
Plainclothes detectives found the man, who had a loaded pistol on him, Trapp said. He was arrested, later posted $20,000 bail and released, Trapp said.
A blog that focuses on Disney news first reported the man's arrest last week, suggesting the gunman could have perpetrated a mass murder. Agoncillo told police he planned to kill as many people as he could, the blog reported.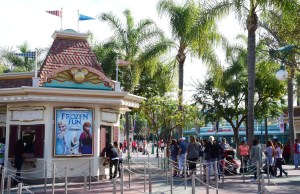 But Anaheim police Sgt. Daron Wyatt on Wednesday said he was not aware of such plans, cautioning he could not go into detail about the case.
"We're not aware of there being any plan to endanger or harm anyone at this point," Wyatt said. "Obviously there are … certain things … we can't reveal because there is a criminal prosecution that's underway."
Investigators discovered that Agoncillo had a similar previous offense in San Mateo County, Trapp said.
Agoncillo was convicted in San Mateo County Superior Court in January 2013 for possession of an illegal drug while armed with a loaded gun, according to the Orange County District Attorney's complaint against him.
He was arrested July 13 on suspicion of drug charges by the South San Francisco Police Department, according to a spokesman for the San Mateo County Sheriff's Office. Agoncillo was in custody in the county jail there, the spokesman said.
He was due for arraignment in Orange County on Aug. 27, court records showed.
KTLA's Steve Bien contributed to this report.
More Video: