This is an archived article and the information in the article may be outdated. Please look at the time stamp on the story to see when it was last updated.
A white RV caught fire Thursday evening and a man, who appeared to be the driver, was seen trying to extinguish the massive flames burning dangerously close to a propane tank.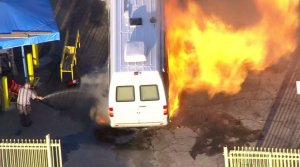 The RV caught fire about 6:42 p.m. at Propane For Less, located in the 9000 block of N. Lankershim Blvd., the Los Angeles Fire Department reported.
Aerial images from Sky5 showed the flames taking over the RV while the man continued to try and extinguish the fire with what appeared to be a garden hose.
After a few minutes, the man could be seen running away from the burning RV which was parked right near a large propane tank.
Sky5 showed a series of tire explosions and the flames raging.
Firefighters arrived on scene shortly after.
No injuries were reported, but it was a close call for firefighters.
"My firefighter who was initially doing the fire attack on that there and fortunately I believe that was the tires on the van going off but that could have been something that very dramatic," LAFD Capt. Patrick Leonard told KTLA.
The cause of the fire was under investigation.