This is an archived article and the information in the article may be outdated. Please look at the time stamp on the story to see when it was last updated.
A police standoff in South Los Angeles ended Tuesday morning when a sniper shot a man who had barricaded himself inside a home after a nearby robbery, officials said.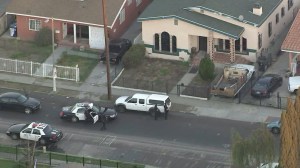 The man had fled after being involved in an earlier robbery outside an LA Fitness gym in the 5900 block of Wilshire Boulevard, said Sgt. Shon Wells of the Los Angeles Police Department. No injuries were reported in the robbery.
After finding the man's vehicle at the intersection of 62nd Street and Budlong Avenue (map), officers discovered that the man was holed up inside a nearby house.
Sky5 video showed multiple SWAT vehicles positioned outside the home. Officers armed with handguns and rifles took up positions on rooftops and behind police vehicles, and ordered the man to come out.
The man was shot by and LAPD sniper after he threatened to shoot the officers, police said. His condition was not immediately known.