This is an archived article and the information in the article may be outdated. Please look at the time stamp on the story to see when it was last updated.
Authorities are searching for three intruders after a Palmdale man was pistol-whipped during a home-invasion robbery Sunday night.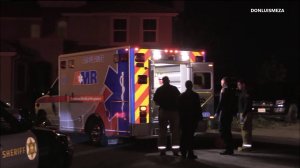 The incident occurred in the 4000 block of Stable Drive about 9:45 p.m.
Three men, including one armed with a gun, entered the home wearing dark clothing, Los Angeles County Sheriff's Department Lt. Steve De Jong said.
The men did not need to force entry into the home, which was unsecured, De Jong said.
Once inside, the intruders encountered a man in his 70s and a woman whose age was unknown.
The man was pistol-whipped during the incident and transported to a local hospital with minor head injuries, De Jong said.
Authorities said the victim, who has not been completely cooperative with investigators, was likely targeted in the attack, De Jong said.
The woman did not appear to have been injured.
Investigators said another roommate was not home at the time.
It was unclear if the intruders asked for or took anything during the incident, which officials described as a burglary and assault with a deadly weapon.
Authorities did not know if the three intruders fled the neighborhood in a vehicle or on foot.