This is an archived article and the information in the article may be outdated. Please look at the time stamp on the story to see when it was last updated.
The man who used the Twitter account @HiddenCash to send people scurrying to find envelopes of money in cities across California revealed his identity to the world Monday night.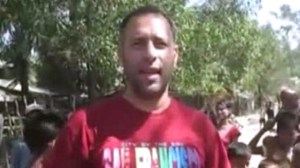 Bay Area real estate investor Jason Buzi gave his first television interview in which he showed his face, explaining his motive and future plans on CNN's "AC360." Buzi told host Anderson Cooper that he has given away between $10,000 and $15,000 since starting the scavenger hunts for cash in San Francisco.
"I've done well, and some of my friends that are involved with it have done very well as well," Buzi said.
In late May, Buzi tweeted hints to the locations of cash drops at a fountain in Los Feliz, the Huntington Library in San Marino and spots in Echo Park, Hermosa Beach and Burbank. He's also hidden money away in Bakersfield, Sacramento and other locations across the state.
Click here to read the full story on LATimes.com.