This is an archived article and the information in the article may be outdated. Please look at the time stamp on the story to see when it was last updated.
UC Riverside police were searching for a man who brandished a semi-automatic handgun during an attempted robbery on campus Monday night.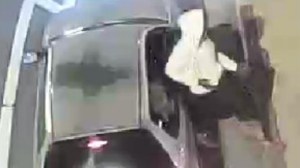 The man approached the victim at about 8:20 p.m. by the Arts building near University Avenue and Canyon Crest Drive, brandished the weapon and demanded property, a news release from the UC Riverside Police Department stated.
The victim did not cooperate and a struggle ensued, police said.
Eventually, the robbery was interrupted and the man got into a vehicle and fled the area westbound on University Avenue toward the 215 Freeway, according to the release.
The person sought was described as a black male in his 20s, about 6-feet tall, and weighing 170 pounds, the release stated. He was last seen wearing a white hooded sweatshirt and red shoes.
Police described the vehicle he got away in as a 90s model, two-door Honda Civic hatchback, silver in color, with black rims, an oxidized or discolored roof, and tinted windows.
Anyone with information was urged to call the UC Riverside Police Department at 951-827-5387.