This is an archived article and the information in the article may be outdated. Please look at the time stamp on the story to see when it was last updated.
A 74-year-old man who was walking in a residential part of the Fairfax District on Monday morning was brutally beaten in an apparently unprovoked attack that was captured on a home surveillance camera.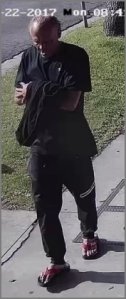 The attack occurred around 8:30 a.m. in the 180 block of Formosa Avenue when a man approached the victim and began kicking and punching him, according to the Los Angeles Police Department.
A man who witnessed the aftermath of the attack told KTLA the victim was a rabbi in the community.
"I was just coming home from synagogue yesterday morning when I see this old rabbi sitting on a curb and I was wondering what was going on," said Joey Brecher, a witness. "I went over and I asked, is everything OK?"
The attacker fled on foot northbound on La Brea Avenue from Oakwood Avenue. He is described in an LAPD news release as a 40-year-old black man, 6 feet tall, with white or gray hair, weighing around 150 pounds. A crime alert sent Tuesday by police initially described the attacker as white, but an updated alert posted by LAPD's Wilshire Division on Facebook Wednesday described him as "black (light skinned)" with gray eyes.
Police have said the attacker is a transient in the area.
The rabbi was incredibly shaken up by the attack, according to a friend of the victim.
"I know him very, very well," said Rabbi Morgan, friend of the victim. "I heard he was terribly shaken up. He's just a wonderful, wonderful person – kind and gentle. All I know is I'm walking from school and I'm looking over my shoulders to make sure somebody is not roaming the streets."
Anyone with information about the incident is asked to call LAPD at 213-922-8260.