This is an archived article and the information in the article may be outdated. Please look at the time stamp on the story to see when it was last updated.
A man was caught on security footage crashing his car into a Norco jewelry store in an attempted smash-and-grab burglary -- only to leave empty-handed after finding the store's display cases largely empty.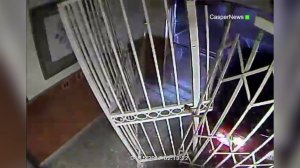 Deputies were called to the store -- Diamond Mind Jewelers -- in the 2500 block of Hamner Avenue around 2 a.m. Saturday, Deputy Mike Vasquez with the Riverside County Sheriff's Department said Monday.
Moments before their arrival, a man backed a stolen Toyota Camry from the late 2000s into the front of the business and crashed through the security gate.
"He came with some force. He blew through all these gates," said store owner Dan Shevitski.
Hearing the crash, people who live behind the storefront came running out, the owner said, and the alarm went off. The majority of the store's wares, meanwhile, had been secured in a safe, Shevitski said.
Within about 15 seconds, the attempted burglar crashed through the storefront, got out of his car and moved toward the store, then got back into the car and drove away.
Surveillance video captured the incident from both inside and outside of the store.
The car, which was originally stolen from Riverside, was later recovered around noon Sunday in Norco, Vasquez said.
The burglar is described as a 20-to-30-year-old man who is between 5 feet 5 inches and 5 feet 10 inches tall and 150 pounds. He was last seen wearing a gray beanie and dark clothes, according to Vasquez.
Shevitski boarded up the front of the store and said he's offering a $2,500 reward for "someone to find this person that is out to damage people's properties." The store sustained $15,000 to $25,000 in damage, he said.
"It's really disappointing that someone has to try to take things away from me that we worked so hard for," he said.
Shevitski said he believed the would-be burglar was working with an accomplice who was parked in another vehicle down the road. The Sheriff's Department, he said, is following leads.
KTLA's Sarah Fenton contributed to this article.