This is an archived article and the information in the article may be outdated. Please look at the time stamp on the story to see when it was last updated.
A 36-year-old man who allegedly fired explosive fireworks at officers in Huntington Park while celebrating Mexico's World Cup upset victory over Germany in their opening match last week has been charged, authorities said Tuesday.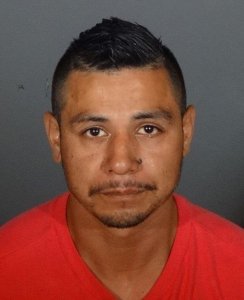 The Los Angeles County District Attorney's Office filed five counts against Jose Alberto Martinez last Friday, including assault upon a peace officer and the use of explosives.
Martinez was arrested shortly after he allegedly shot mortar style fireworks in the direction of officers during an "unruly" street celebration following Mexico's win on June 17, according to the Huntington Park Police Department.
He is also accused of launching fireworks directly at a law enforcement helicopter, the department said.
Spectators filmed the incident, which occurred at the intersection of Florence Avenue and Pacific Boulevard. Cellphone video was shared on Twitter and has been retweeted more than 1,600 times as of Tuesday mid-afternoon.
Martinez is being held at the Men's Central Jail in downtown L.A. on $350,000 bail, according to inmate records. He was scheduled to appear in court Tuesday.
If convicted as charged, Martinez faces a maximum state prison sentence of 27 years, authorities said.
— Eddie 🧢 (@Gvmbiit) June 17, 2018