This is an archived article and the information in the article may be outdated. Please look at the time stamp on the story to see when it was last updated.
A Seattle man has been charged in a "hate crime attack" after he allegedly tried to run two congregants of a Hancock Park synagogue over with his car and yelled out anti-Semitic slurs last week, prosecutors announced Tuesday.
The defendant, Mohamed Abdi Mohamed, 32, pleaded not guilty to two felony counts of assault with a deadly weapon, a vehicle, and a hate crime allegation at his arraignment Tuesday afternoon.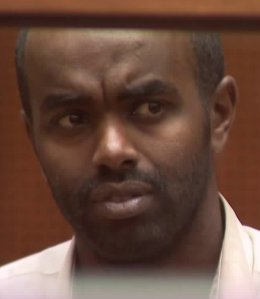 If charged, Mohamed faces a maximum sentence of eight years and eight months in state prison, according to the Los Angeles County District Attorney's Office.
The incident happened at around 9 p.m. Nov. 23 after an event at Congregation Bais Yehuda on 360 N. La Brea Ave.
The victims, two men aged 37 and 57, who were unharmed, were walking toward Oakwood Avenue when they saw a man in a vehicle yell out slurs "referencing their Jewish heritage," police said Monday.
The driver, identified as Mohamed, then allegedly ran a red light, made a U-turn and accelerate toward them. He then made a turn and tried to hit them again before attempting to drive away, but crashed into another vehicle and was arrested shortly after, police said.
Police also found a knife in Abdi's vehicle, according to police Chief Michel Moore.
Moore said that the LAPD and FBI are looking into his background, recent travel and social media history, but there is no evidence that Mohamed was working on a larger attack.
The defendant is a U.S. citizen originally from Somalia and had only been in the Los Angeles area for only a few days, Moore said.
At Mohamed's arraignment Tuesday, the judge granted the prosecutor's request to increase Mohamed's bail to $500,000, based on the argument that the defendant does not have a local contact or residence, making him a flight risk.
The prosecutor also argued that based on what Mohamed allegedly said to arresting police officers, there is a concern that "some organization may proffer the funds to bail him out." Prosecution believes Mohamed drove to Los Angeles with the intent to commit the crime, but there is no evidence suggesting that, according to Mohamed's defense.
Mohamed's preliminary hearing will be held on Dec. 10. in downtown Los Angeles.
Los Angeles police had given the suspect's name as "Mohamed Mohamed Abdi" but the DA's office and county inmate records indicate Mohamed is both his first and last name.