This is an archived article and the information in the article may be outdated. Please look at the time stamp on the story to see when it was last updated.
A 33-year-old man was charged Monday with the illegal killing of a deer in a Monrovia neighborhood back in September, the Los Angeles District Attorney's Office said.
Michael Jackson Rodriguez, a resident of Duarte, was charged after a nearby home's surveillance camera caught him in the act of killing the deer with a bow and arrow, officials said.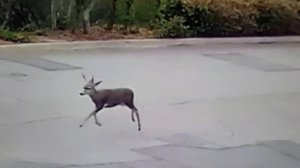 The killing happened on Sept. 14 in the San Gabriel Mountain foothills just before 4:30 p.m., according to the homeowners who own the surveillance camera, Robyn and Chuck Tapert.
"It's really disgusting, and the more I watch it, the more I can't believe it," Robyn told KTLA at the time. "This guy took such a cheap shot."
Shooting a deer or discharging a deadly weapon within 150 yards of a home is illegal, prosecutors said.
The surveillance footage shows a man wearing a black t-shirt and carrying a large backpack walking in the bushes along a stretch of roadway. At some point, he stands hidden in the greenery as he aims a bow and arrow and launches it forward.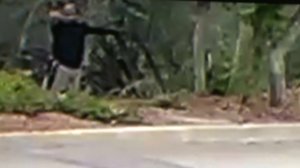 Some time later, the deer can be seen quickly galloping across that same road, where neighbors would later find a trail of blood.
Just two days later, prosecutors said, Rodriguez filed information about the incident with the California Department of Fish and Wildlife that was found to be false.
At the time, Rodriguez told the Pasadena-Star News he has the proper license and tag for the deer. He also said he had actually encountered and shot at the deer in a legal hunting area before following it into the residential area.
Rodriguez said he was aware he couldn't legally hunt within 150 yards of a home, but the deer hadn't died upon entering the neighborhood. So he felt bad for its suffering and concerned it might pose a danger to passing drivers as it struggled to survive along the roadway, he told the Pasadena-Star News.
"I took an action which I thought was the most appropriate and ethical way of handling it," he said.
Shortly after, California state wildlife officials started pursuing charges against Rodriguez.
He has been charged with one felony count of procuring and offering a false or forged instrument, prosecutors said.
He has also been charged with three misdemeanors — possession of wildlife taken unlawfully, discharge of a deadly weapon within 150 yards of an occupied dwelling and shooting a bow and arrow within Monrovia, prosecutors said.
He faces a possible maximum sentence of 3 ½ years in jail and is scheduled for arraignment in court on Nov. 30.