This is an archived article and the information in the article may be outdated. Please look at the time stamp on the story to see when it was last updated.
A Burbank man was charged with  10 counts of attempted murder Tuesday after critically wounding two Los Angeles County Sheriff's deputies in a series of shootouts in Bellflower last week, officials said.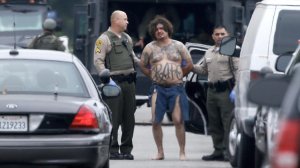 The incident began when deputies tried to pull over an erratic driver who knocked over a bunch of cones at a DUI checkpoint on Lakewood Boulevard at about 10:50 p.m. on June 23, officials said.
A motorcycle officer followed the driver to the 16600 block of Lisa Avenue, where the driver, later identified as Juan Martinez, 39, exited his vehicle and then began shooting at the deputy.
The unidentified deputy was struck multiple times, but did return fire, officials said.
Martinez then got into his vehicle and drove to a cul-de-sac where he exchanged gunfire with authorities and struck a second deputy. He ran away and engaged authorities a third time before hiding in a converted garage at a home in the 9000 block of Mayne Street where he was holed up for almost eight hours.
He was eventually arrested after a SWAT team fired tear gas into the structure, officials said.
Martinez is charged with 10 counts of attempted murder of a peace officer, one count of false imprisonment of a hostage, dissuading a witness and possession of a firearm by a felon.
If convicted, Martinez faces a sentence of up to life in prison, officials said.