This is an archived article and the information in the article may be outdated. Please look at the time stamp on the story to see when it was last updated.
A man has been charged with assault after crashing into an officer's motorcycle with a stolen vehicle during a traffic stop in Santa Ana, authorities announced Wednesday.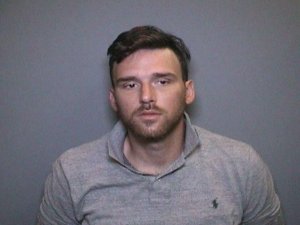 Nicholas Raymond Mauro, 32, was charged with two counts of felony for aggravated assault on a peace officer and for unlawful taking of a vehicle, according to a statement from the Orange County District Attorney's Office. He was also charged with a misdemeanor count for resisting or obstructing a peace officer.
Mauro, a Santa Ana resident, allegedly stole a black 2008 Toyota Scion on Dec. 6. Three weeks later, an officer stopped him near Main Street in Santa Ana.
Authorities said the officer, whose name was not released, parked his motorcycle behind Mauro's car. Mauro attempted to get out of the vehicle before the officer ordered him to stay inside, according to the District Attorney's Office.
Mauro then accelerated backward, crashing into the officer's motorcycle before fleeing, authorities said.
Police reported finding Mauro two days later near Plaza of the Flags in the Santa Ana Civic Center. Authorities said Mauro ran away from four officers and jumped over a wall and onto a parking lot 20 feet below before being arrested.
Maura faces up to five years and eight moths in state prison in addition to one year in county jail. He was scheduled to be arraigned on Wednesday.