This is an archived article and the information in the article may be outdated. Please look at the time stamp on the story to see when it was last updated.
A man was charged Friday in an attack on a Cal State Northridge student who captured video of the strange and violent encounter that occurred on campus earlier this week.
The female student victim, Gasig Kejejian, 22, said a man followed her while she was riding her bike to class around 3:30 p.m. Wednesday. She said he was questioning her, making comments and pulling her hair.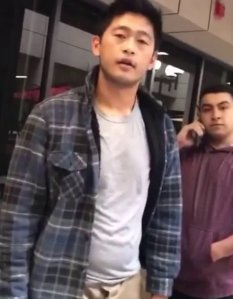 Kejejian said she started filming the man when she got inside her classroom building. In the video, which a friend of hers posted on social media, Kejejian confronts the man while others can be seen walking around nearby.
"Go ahead and tell everybody what the f— you're doing," she says in the recording.
"I'm trying to make love to you," he responds.
Kejejian tells him she doesn't know him. Then he steps toward her and the camera moves wildly in an apparent scuffle.
Kejejian says that's when the man choked her.
The video shows bystanders quickly intervening to stop the assault.
CSUN police have identified the man who attacked her as Peter Wei, 26, who is a Northridge resident but not a student. They said they chased Wei, who ran away after the assault, and arrested him a few minutes later.
CSUN police also allege that Wei attacked another woman on campus on Tuesday. This other woman was also choked during broad daylight, and was able to get away, officials said.
The department said it has evidence tying him to that incident and will recommend additional charges to the L.A. County District Attorney's Office.
Wei was charged on Friday with two felony counts of assault to commit a felony (rape, sodomy or oral copulation), one misdemeanor count of battery and one misdemeanor count of resisting, delaying or obstructing a peace officer, an DA's office spokesman said in an email.
Wei decided to represent himself when he was arraigned in court Friday afternoon. His bail was increased from $100,000 to $1 million during the hearing, and he was scheduled to appear in court again on Dec. 14.
If Wei is convicted, he will face a maximum of 13 years and six months in state prison, prosecutors said.