This is an archived article and the information in the article may be outdated. Please look at the time stamp on the story to see when it was last updated.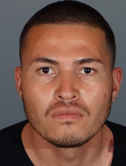 A man accused of breaking into an apartment and raping a woman in Maywood was charged with multiple counts on Tuesday, according to the Los Angeles District Attorney's office.
Salvador Martinez, 28, faces three counts of forcible rape and one count each of forcible oral copulation, first-degree residential burglary and dissuading a witness from reporting a crime.
The case includes the special allegation that the forcible sex crimes were committed in the course of a residential burglary.
Martinez allegedly broke into the apartment of a 36-year-old woman on the morning of Nov. 13 and sexually assaulted her. The Los Angeles native then fled the scene, prosecutors said.
He was found and arrested in Fresno five days later, according to the Los Angeles County Sheriff's Department.
Investigators previously said after Martinez's arrest that he may be connected to a series of similar crimes in the area that have occurred over the past month. Forensic evidence is being used to try and confirm a link.
Martinez faces a possible maximum sentence of 106 years to life in state prison if convicted. His bail is being requested at $4.15 million.